Average rents for residential properties increased by 5.6% nationwide between April and June, according to the latest quarterly rentals report from website Daft.ie.
The report shows rents rising faster outside of Dublin and a record number of properties available to let.
Daft.ie's rental report for the second quarter of this year shows the biggest difference in how rents have moved across the country since the series began 15 years ago.
For example, rents in parts of Dublin fell by 7%, while they rose by 16.5% in Kerry.
On average, rents in Dublin are up 0.5% to just over €2,000 per month.
In Cork, the average rose just over 9% to €1,524.
Across the country as a whole, excluding towns, the average rent was €1,117, up 11.4%.
The most dramatic finding was the scarcity of supply.
As of August 1, there were 2,455 properties available for rent nationwide, the lowest on record since the series began.
While the number of properties available in Dublin was actually higher than in 2019, there were only 789 properties available to rent in the rest of the country.
Speaking on RTE's Morning Ireland, economist and report author Prof Ronan Lyons said the rent increases are largely due to the Covid-19 pandemic.
He said the report shows "outsized" increases in a number of counties, where rents have risen between 13 and 18 percent year-over-year.
He said rents in County Kerry were up 16.5% year-on-year and 5% between March and June alone.
The report found that there were just 800 homes to let outside Dublin on August 1, down from 1,800 homes two years ago – there were just eight homes to let in Co Offaly and 15 in Co Waterford.
Prof Lyons said the growing population was part of the reason for the demand, along with a lack of new rental accommodation over the past 15 years and warned that the lack of availability could make it difficult for students to access accommodation from September.
"The Irish rental sector has suffered a lost decade and a half, with almost no new rental housing built. This cannot be solved by trying to regulate prices. It can only be solved by adding significant amounts of new supply" , did he declare.
He stressed that the problem was now widespread and not limited to Dublin.
"Policymakers – and citizens – should be wary of anything that limits the ability of foreign savers to build new rental housing here," Professor Lyons added.
In response to the report, the Institute of Professional Auctioneers & Valuers said it demonstrated the need to tackle the supply problem and that this would be done by building homes at affordable prices.
IPAV chief executive Pat Davitt said landlords are choosing to exit the rental market because restrictions on rent increases are impacting their ability to get a return on their investment.
He said there was "a need to bring parity to the rental market".
Mr Davitt said the IPAV was calling on the Central Bank to introduce a change to the mortgage borrowing rules to allow people to borrow 4.5 times their income and said the borrowing rules "need a step to that people earning up to €60,000 can borrow enough money to buy a property".
Threshold CEO John Mark McCafferty said more could be done on the tax treatment of landlords, to encourage small landlords to stay in the business.
Speaking on RTÉ's Drivetime, Mr McCafferty said this was part of the reason they were seeing a reduction in the number of rented houses and apartments available.
He said that "there is a key issue here in terms of affordability for the tenants we work with, who we advise, but the number of landlords choosing to leave the area is the biggest contributor to rental evictions".
"Structural crisis" in the private rental sector – SF
Sinn Féin housing spokesman Eoin Ó Broin said the Daft.ie report shows there is a "structural crisis" in the private rental sector.
He reiterated his call for a three-year ban on rent increases and said there must be a "dramatic" increase in funding for affordable rents.
The Dublin Mid-West TD fears that a return to work later in the year would see "stagnant rents in Dublin city center begin to rise again", and said the government must invest "hundreds of million" each year to provide affordable rental housing.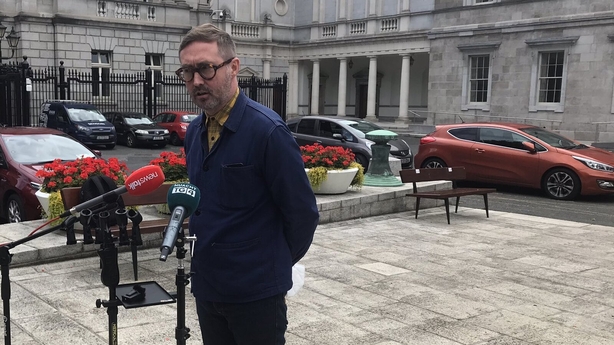 Mr Ó Broin also called on the government to pass an amendment from Focus Ireland, which would prevent rental landlords from evicting tenants during the sale of a property.
According to Sinn Féin, the three-year ban on rent increases should be imposed across the country, followed by measures that would link all residential rents to inflation.
When asked if his party was hostile to landlords, MP Ó Broin said that "the parties most hostile to landlords are Fianna Fáil and Fine Gael", adding that "they are the ones who have created a system dysfunctional rental properties and these are the ones that have presided over a loss of over 20,000 rental properties from our rental market over the past four years".
Additional reporting Tommy Meskill