THE Mid West Regional Enterprise Plan, which sets out a series of projects and initiatives for Limerick, Clare and Tipperary over the next three years, is already in jeopardy due to housing shortages.
Speaking at the launch of the plan in Nenagh yesterday, Tanaiste Leo Varadkar said the housing crisis was one of the biggest problems facing the country and the government.
"There is absolutely no doubt that high rents, high house prices and lack of supply are a barrier to potential future economic growth. If we are bringing competent people into the country, we need a place to live. We just don't have enough supply," Mr. Varadakar added.
"Despite the pandemic, over 20,000 new homes were built in Ireland last year; 30,000 have started construction and nearly 40,000 have obtained planning permission. Yet this is simply not enough and we must do all we can to speed this up and ensure that there are more homes of all kinds to buy and rent in all parts of Ireland."
Mr Varadakar said the government was planning to offer grants to people to renovate vacant properties because "the repair and rent program has not worked as well as we hoped".
Sign up for the Limerick Post weekly newsletter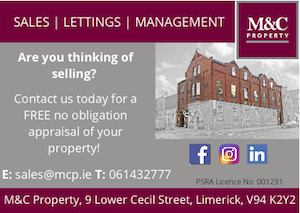 "Minister of State Peter Burke is making changes to planning legislation to facilitate the conversion of former commercial buildings, such as pubs, into homes.
"Other measures include a proposed homeowner tax, affordable housing programs, income rental purchase programs, as well as insulation upgrade programs.
"There are a number of different initiatives going on, but it's not happening fast enough and I recognize that," Mr Varadkar added.
Limerick Fine Gael TD, Kieran O'Donnell said Limerick City and County Council were looking at affordable housing schemes and income rental purchase schemes.
"They are also looking at some sites and there is also the upgrade program in terms of insulation."
"Each community is thinking about it specifically, and the Tanaiste has referred to a new device which will be announced and which will allow the inhabitants of towns and rural villages to develop vacant housing.
"I think it will have a huge impact on the rural villages and towns of Limerick and North Tipperary."
"The Land Development Agency has chosen the city of Limerick as one of its main areas of interest and this will also feed into this business plan in terms of jobs and housing, so this is a integrated approach.
"I think there are some very specific plans for this area which will fit into the Regional Business Plan in terms of job creation but specifically in terms of housing provision," MP O'Donnell added. .